---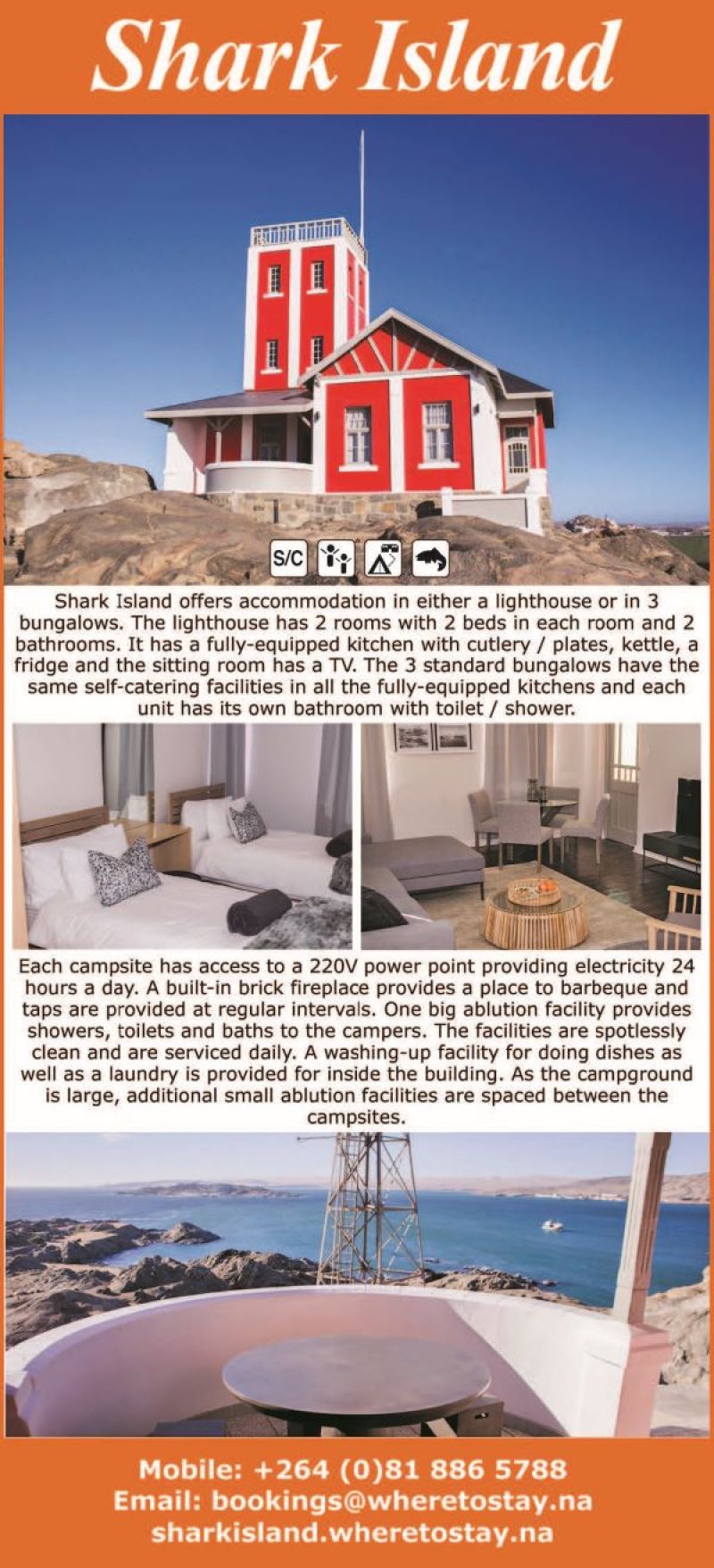 CONTACT:

CATEGORY:
Accommodation: Resort
Group: Namibia Wildlife Resorts


PRICING:
Prices on Request


---
Shark Island offers accommodation in either a lighthouse or in 3 bungalows. The lighthouse has 2 rooms with 2 beds in each room and 2 bathrooms. It has a fully-equipped kitchen with cutlery / plates, kettle, a fridge and the sitting room has a TV. The 3 standard bungalows have the same self-catering facilities in all the fully-equipped kitchens and each unit has its own bathroom with toilet / shower.
Each campsite has access to a 220V power point providing electricity 24 hours a day. A built-in brick fireplace provides a place to barbeque and taps are provided at regular intervals. One big ablution facility provides showers, toilets and baths to the campers. The facilities are spotlessly clean and are serviced daily. A washing-up facility for doing dishes as well as a laundry is provided for inside the building. As the campground is large, additional small ablution facilities are spaced between the campsites.
Accommodation:
1 Lighthouse (4 Beds)
20 Campsites
Attractions:
Sand roses trip into the Diamond Area at Agate beach.
Luderitz peninsula (popular for sightings of Flamingo).
Diaz Point – the historic landing spot of 17th century explorer Barthelomeuz Diaz.
Send a query via WhatsApp, then Shark Island can reply directly to your device.
Your message has been sent.
Copyright: © Where to Stay.
No parts of this website may be reproduced, stored in any retrieval system or transmitted in any form or by any means without the express, written
permission of the publisher. Extreme care has gone into supplying accurate information, however, no liability can be accepted by Where to Stay for any
errors or omissions that may have occurred.
Tel: +264 (0)61 259 293
Fax: +264 (0)61 259 933
info@wheretostay.na